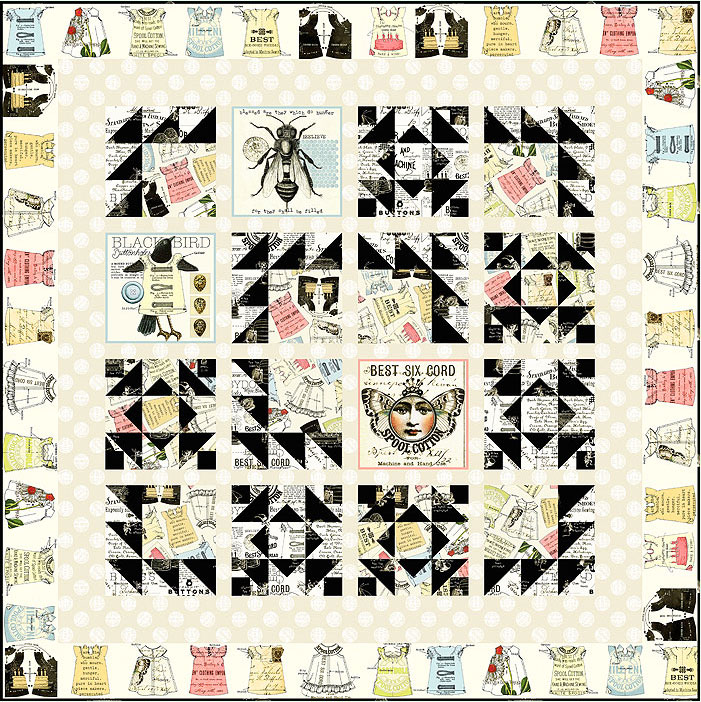 This week's Free Quilt Pattern is a inspired by the vintage-style unique illustrations of Janet Frisch. The 66″ x 66″ quilt uses 2 panels, that are cut up and pieced with the coordinates from her 'Quilting B's' collection.
Combining baby doll clothes, butterflies, and the occasional Bible verse, Janet Wecker Frisch has designed this collection around things starting with the letter 'B'. From Bumblebees to Blackbirds, this collection is colored in soft pastels and vintage parchment tones.
…from the 'Quilting B's' collection by J. Wecker Frisch for Quilting Treasures.
Order the pattern as configured, or customize it to your liking with any of our thousands of fabrics. Just place your desired fabrics in your Wish List, and these fabrics will appear in the Fabric Selector below the pattern.
EQ7 is the leading quilt design software, which is available here at eQuilter.
Click Here for a Video Tutorial of the Free Pattern Designer.
Download Instructions for the pattern at the bottom of the pattern designer page.
Share Post: