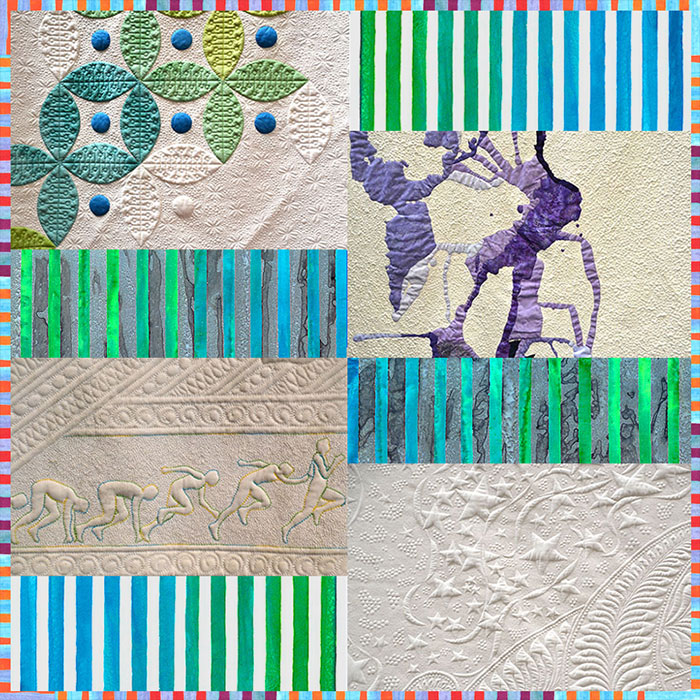 One of the quilting trends I see rising strongly, is dense creative stitching in white negative space. This is happening not just in Modern Quilts, but also in Art Quilts and Traditional Quilts.
It ranges from All-White Whole cloth Quilts, to Abstract Art Quilts, and Modern Geometric Quilts. It is happening not just with white thread on white grounds, but also with solid colored and variegated threads on white grounds.
There are closeup detail shots from 4 quilts above, which I saw at the Festival of Quilts in Birmingham. You can see the full quilts on my Photo Page now.
The artists who made these quilts are:
(starting at top left, clockwise)
Anne Lillholm Joergensen – Puffing Petals
Maggie Farmer – Mistral
Sandy Chandler – Catherine's Wheel
Birgit Schuller – The Sprinter
Obviously this kind of precision dense stitching is done on a machine, and these quilts (on my Photo Page) are stitched on longarm and home sewing machines….but they are accomplished on high quality machines with great stitch control and a great deal of mastery on the part of the maker. I personally use a BERNINA 790 to achieve this type of stitch control, and I urge you to try out many machines at your local dealers to see which one gives you the quality stitching you desire.
Are you aspiring to learn this quilting technique? Make several quilt sandwiches in manageable sizes, and start practicing making a variety of freemotion stitch designs on these sample "pages".
A suggestion would be to make 12″ square quilt sandwiches with white solid fabric, and a fusible quality cotton batting. Practice one type of stitch per page (like a mini-pebble stitch) until you master proficiency. You can bind all these sample stitch pages together to make a record of your stitching practice.
High quality machine needles, thread and batting will give you the best results. Sometimes our customers are surprised to know that we carry ALL of these quilting supplies!
On this visit to Birmingham, I met eQuilter customers from Dubai and Israel, Brazil and Borneo, Copenhagen and Croatia. Many thanks to all of you who told me which products were most important to you! It is important to support your local quilt shop, but we are here for you when you need a specialty product, or a wider variety of choice. It is our honor to serve you, by stocking the supplies you need for your quilting projects.
* The image features a collage with 4 quilt details, and our striped batik products.
sharing your Passion for Fabric…
Luana
********
Travel Calendar:
Sept 12-13 – Carter Center – Atlanta GA
Sept 14 – Quilting Arts TV – Ohio
Sept 16 – Quilters Take Manhattan
Oct 1-11 – Intl Quilt Trends lecture at New Zealand Quilt Symposium – Christchurch
Dec 29 2017 – Jan 5 2018 – Tanzania Africa Wildlife Migration Tour – Limited Spaces
Feb 22-25, 2018 – QuiltCon – Pasadena, California
Nov 14-20, 2018 – POLAR BEAR Tour – Join me in Churchill!
Share Post: