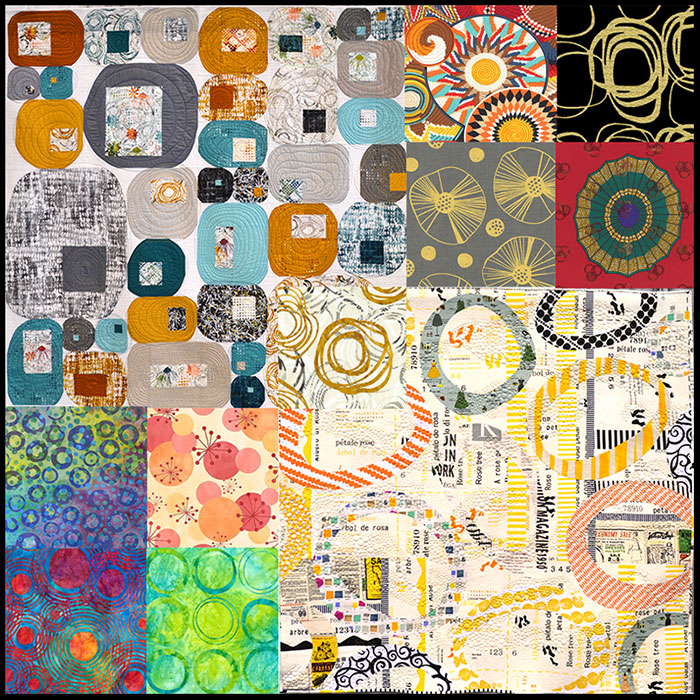 This week I'd like to talk about how Shapes can be a trend, just like a color or a motif can be a trend in fabrics.
The trend this week is… The Blob.
Well seriously it is about organic shapes that are somewhere between a circle and a rounded-off square. (Not the 1958 B-Movie!)
This is a Shape Trend that we see in Modern Quilts and Modern Fabrics, but we also see it in ethnic fabrics and batiks. They are bubbles, emancipated or concentric circles, or perhaps you see blobs of liquid floating in weightless space. (Think of the swimming pool scene in "Passengers".)
Above I am featuring 2 quilts from QuiltCon, in a collage with fabrics that are also part of this trend.
The top left quilt is by Kathy York ("Boulder Field") and is a great mix of Modern Colors and Shapes. The Gold, Cool Blues, and textured Grays strike just the right mix of warm and cool, smooth and rough, dark and light.
The bottom right quilt is by Marilyn Farquhar and if you look closely you will see not only giant appliqued amorphous circles, but also little circles of stitching that create another layer of the bubble theme, with a pebble-like texture.
You can see these 2 quilts, and many other Modern Quilts, on my photo page.
The abstract or asymmetrical circle goes as far back in humans' art history, as any other motif. It shows up in petroglyphs and other indigenous art, but has re-invented itself once again in our Modern designs. You will see in this collage African prints, watery Batiks, and slick Metallic Foil circles, as old and new interpretations of this Universal shape.
To me, these shapes express a fun and free approach to creativity, and they make me smile.
We have a video clip posted from my first segment on the new PBS Modern Quilting TV show – "Fresh Quilting". This 1st segment is about The Colors of Cuba, and features our exclusive Cuban Cars fabrics which are temporarily out of stock. Let us know if you want to be notified when they are back in the warehouse!
sharing your Passion for Fabric…
Luana a
Share Post: