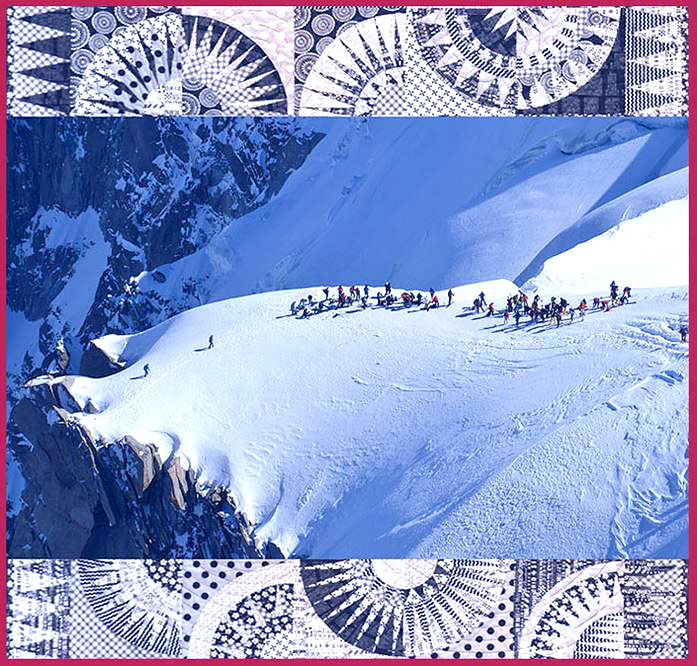 As I plan my travel for 2017, I have been reviewing my photos from 2016. One of my favorite trips last year was my week in Geneva Switzerland, and my daytrip to Chamonix and Mont-Blanc in the nearby French Alps.
I was also reviewing photos of quilts from various quilt festivals, and this quilt by Kimberley Follington ("New York Beauty" at the Festival of Quilts in Birmingham UK) really caught my eye. (Details from this striking quilt are in the photo collage above.)
There is a really fun trend happening not only in quilting, but also in fashion and home dec, where black and white prints are mixed with jeweltone brights, pastels or shades of gray. In this quilt, Kimberley mixes different black and white and gray prints, using them as different values.
It is inspired by the classic New York Beauty quilt design, but it actually reminded me of the snowy curves and jagged dark rocks of Mont-Blanc. Does it remind you of a New York skyline, or snow-bound rocky peaks?
If you are in Colorado, there are still openings for our Feb 9-11 Sewapalooza which will inaugurate our new classroom with a bevy of Bernina sewing machines during this 3 day event. I will give 2 presentations: a trunk show with my quilts and wearable art, and my power point lecture "International Quilt Trends" which will include photos from the Tokyo Quilt Festival. Heck, you don't have to be from Colorado… you can stay at the new Hampton Inn one block from here if you come from out of town. Plus…we will have cookies. *smile*
Also, we have Very Limited openings for the Tanzania New Years "Great Migration" Tour one year from now, and we are receiving registrations now, so if you want to snag a seat on this once-in-a-lifetime trip, please call to make your reservation today!
sharing your Passion for Fabric…
Luana
********
2017 Travel Calendar:
Jan 18-22 – Tokyo Quilt Festival
Feb 9-11 – Bernina Sewapalooza By Blakeman Sewing at eQuilter Classroom!
Feb 17-20 – Venice Photo Conference
Feb 24 – eQuilter Sponsored Cocktail Party at QuiltCon
Dec 29 2017 – Jan 5 2018 – Tanzania Great Migration – New Years in Africa – Taking Reservations NOW!
Share Post: