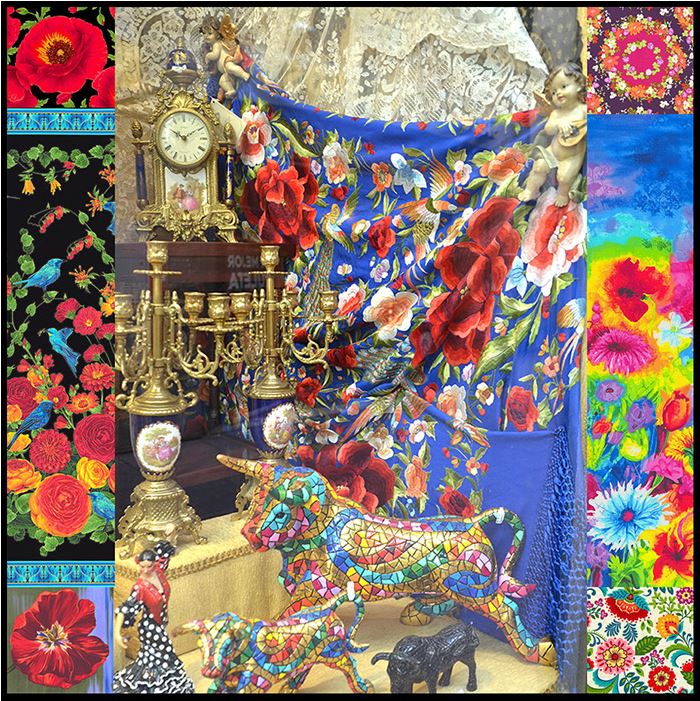 Last summer I visited Andalucia in Spain, and I'd like to share one of my serendipitous photos from that trip. (And a few coordinating eQuilter fabrics in this collage.)
This was taken at a shop window in Seville, and the heavily embroidered shawl is the star of the show! You can also see lace, mosaics, a flamenco dancer, and antiques in this vignette. It is a celebration of their local culture.
Many of us like to collect and photograph beautiful textiles and objects to share on our blogs, or to act as a sort of 3-dimensional Mood Board…an inspiration for future creative projects. Some of us curate and assemble these collections for display in our studios or living spaces…Alters to show our reverence for the Creative Spirit.
You may do this consciously, or unconsciously, but I bet you have a little Creativity Alter going somewhere in your living or working space!
I have several of these creative vignettes around our house. They are travel mementos, small works of art and craft, gifts from artist friends, seashells gathered on the beach, mixed in with postcards, photos, and art made by my kids. My own personal museum. It always makes me smile. Our house is full of art, books, and color. Nobody could really be bored here.
What is your style and how is it reflected in your creative projects? Are you surrounded by inspiration, or is it neatly tucked in a scrapbook or drawer? We all do it differently, but we creative people always have our inspirational treasures close at hand.
A reminder that we have Very Limited openings for the Tanzania New Years "Great Migration" Safari one year from now, and we are taking registrations now…please call to make your reservation today!
sharing your Passion for Fabric…
Luana
********
2017 Travel Calendar:
Jan 18-22 – Tokyo Quilt Festival
Jan 26 – NASA Space for Art – opening reception
Feb 9-11 – Bernina Sewapalooza By Blakeman Sewing at eQuilter Classroom!
Feb 17-20 – Venice Photo Conference
Feb 24 – eQuilter Sponsored Cocktail Party at QuiltCon
Dec 29 2017 – Jan 5 2018 – Tanzania Great Migration – New Years in Africa – Taking Reservations Now!
Share Post: