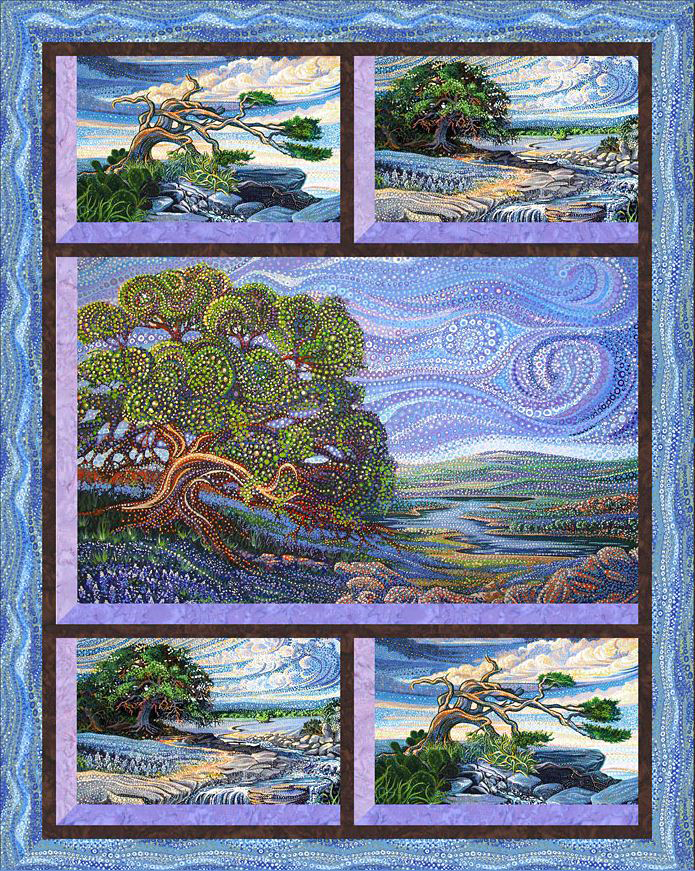 This week's exclusive Free eQuilter Pattern is a quick and easy quilt, with one of the most stunning digital panels we have ever seen! This fabric design was one of Luana's favorite things at Quilt Market, because of the exquisite detail and beautiful colors of these atmospheric landscapes.
Using a faux windowpane design, this 50″ x 64″ quilt design can be hung on a wall where you *wish* you had a view out to the ocean, and the ancient twisted tree gives the image so much character. The pointillist artwork also has a Van Gogh "Starry Night" feel…very ethereal and dreamlike.
'Dreamscapes' is an exceptional Digital printed landscape fabric,
from the 'Artisan Spirit Dreamscapes' collection by Ira Kennedy for Northcott Fabrics.
Order the pattern as configured, or customize it to your liking with any of our thousands of fabrics. Just place your desired fabrics in your Wish List, and these fabrics will appear in the Fabric Selector below the pattern.
EQ7 is the leading quilt design software, which is available here at eQuilter.
Click Here for a Video Tutorial of the Free Pattern Designer.
Download Instructions for the pattern at the bottom of the pattern designer page.
Share Post: