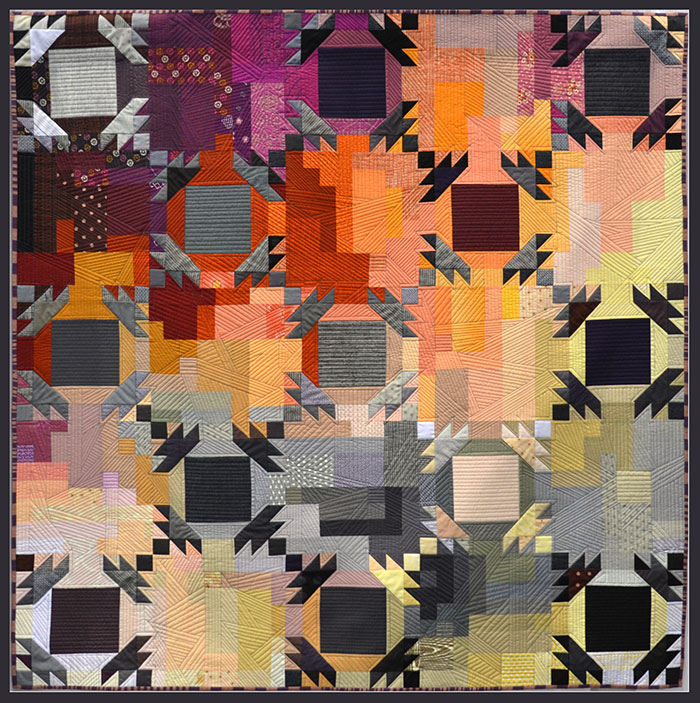 As I work through the photos I took at QuiltCon, I find that the thing that stands out the most is the use of Color. It is no longer just a MidCentury Modern color palette. It is certainly not just about one color. It is about the combinations of color and how they are used in the design of the quilt. These color palettes seem to be drawing more and more on the Seventies era, combining saturated secondary hues with neutrals, and using value to create a sense of dimension.
Here is just one of the many striking Modern quilts from QuiltCon. "Light and Shadow" by Rebecca Loren (Boston Modern Quilt Guild) uses a star block inspired by quiltindex.org, from a piece made by an unidentified quilter around 1850-1875.
Rebecca designed her plan for the colors before constructing the quilt, then pieced improvisationally for the wash effect. The graded colors were intended to create a flicker effect, like shadows at dusk. Note the dense quilting, which was machine quilted on a frame by Linda Wolyniec. Many modern quilts are pieced by one person, and quilted on a midarm or longarm by another person…as with this striking quilt!
There are many more quilts from QuiltCon that have creative uses of color and value, and I'll be uploading them on my photo page this week.
sharing your Passion for Fabric…
Luana
Share Post: