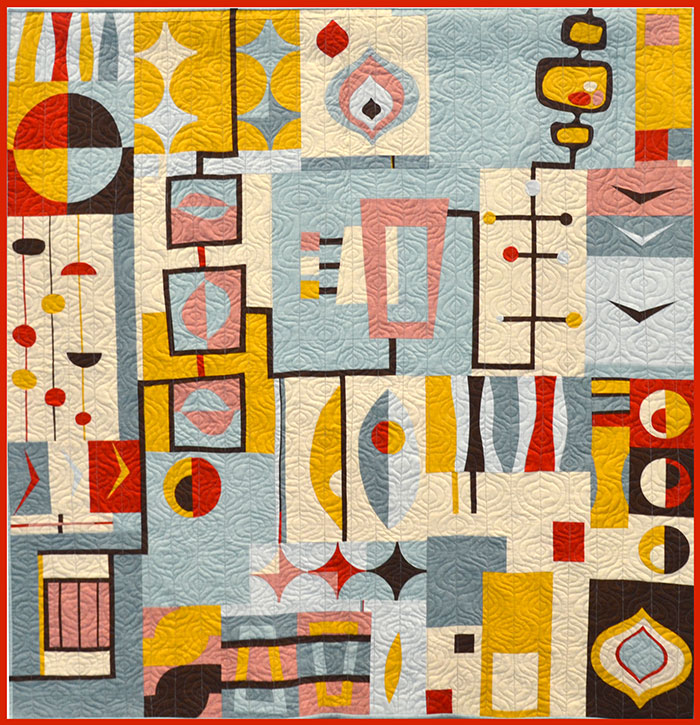 One of the fun things about going to QuiltCon is seeing a seemingly endless collection of Mid-Century Modern interpretations.
This piece was quilted by Laura Bennett, theme and colors by Jessica Levitt, blocks designed & constructed by the Central Jersey Modern Quilt Guild.
It has a distinctly Mid-Century Palm Springs Vibe. Maybe it is really a Mid-Century Jersey Vibe… but it really reminds me of the architecture tour I took in Palm Springs while at a Color Marketing Group conference there. At night we walked around and peered in the windows of the vintage collector stores, and saw things with this same design vibe, that reminded us of the Rat Pack…Dean Martin, Sammy Davis Jr. and Frank Sinatra style.
This collaborative quilt titled 'Organic Mid-Century Mod' was a progressive quilt, made at the Mid-Atlantic Mod quilting retreat. I would say that had a lot of fun with this piece! If you ever hear anyone say that Solids are boring, show them this quilt. It makes me smile!
Kudos to Laura, Jessica, and their quilt posse from Princeton, NJ! (Jessie Aller, Neva Asinari, Ashley Bander, Tracy Baird, Ruth Bass, Nicole Folino, Michelle Kochan, Janet Schoenfeld, Robin Tillsworth & Colleen Wiest.)
Check out the album of photos I've posted from QuiltCon…more being uploaded every couple days.
If you've been intrigued by my New Years trip to Tanzania, to see the Serengeti Great Migration, I've uploaded some photos from NatHab and my friend Kevin who have shared images from their recent trips.
sharing your Passion for Fabric…
Luana
Share Post: