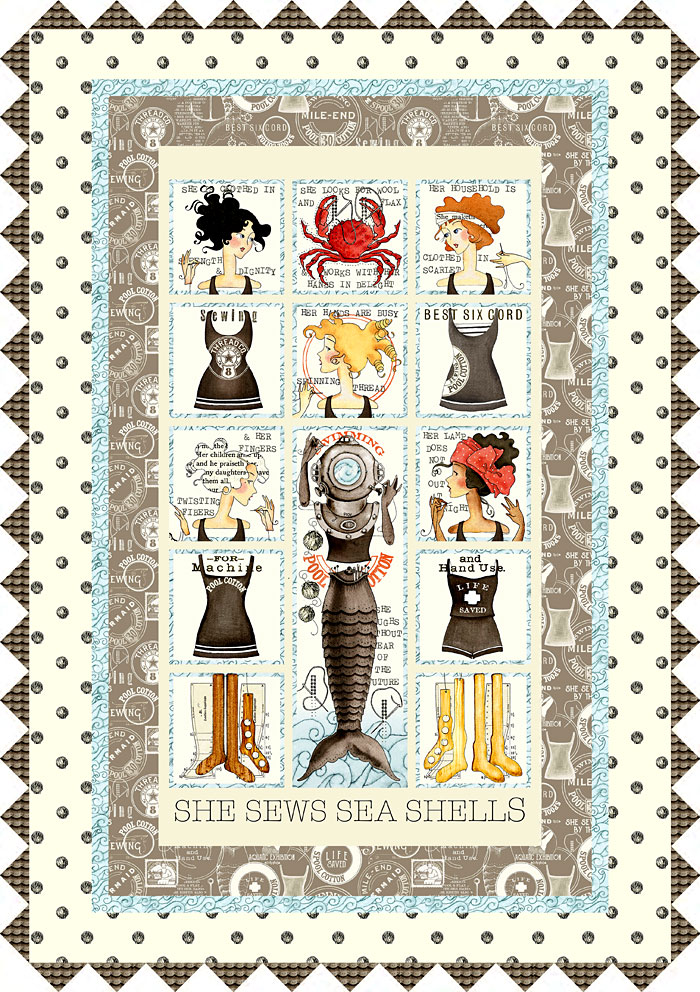 Take a trip to the seashore with Janet's whimsical vintage collection,
in this week's Free Quilt Pattern.
This 42″ x 59″ quilt makes a fun wallhanging, featuring a central panel with ladies in swimming costumes, and concentric borders using coordinating fabrics. Have fun with this super easy quilt pattern for a fast gift…or freshen up your Room With a View of the water, for the warm months ahead.
Janet's illustrations somehow manage to be contemporary and antique all at the same time, which is why her artwork is so beloved by eQuilter customers. Come on in… the water's fine!
… from the 'She Sews Sea Shells' collection by J. Wecker Frisch for Quilting Treasures.
Order the pattern as configured, or customize it to your liking with any of our thousands of fabrics. Just place your desired fabrics in your Wish List, and these fabrics will appear in the Fabric Selector below the pattern.
EQ7 is the leading quilt design software, which is available here at eQuilter.
Click Here for a Video Tutorial of the Free Pattern Designer.
Download Instructions for the pattern at the bottom of the pattern designer page.
Share Post: