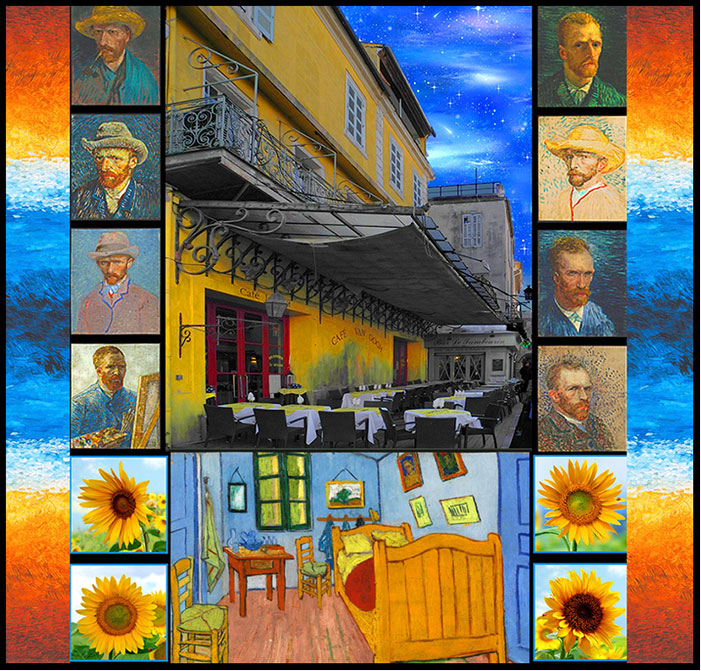 It all started with Irving Stone. First I read The Agony and the Ecstasy at 12 years old, and that naturally led me to Lust for Life. (Stone's biographical novels about Michelangelo, and Van Gogh.)
When I was 15 years old, I sold cookies and ran a fundraiser event to help pay for my exchange trip to Amsterdam and Cologne. That was the first time I saw his work in person – at the Rijksmuseum and Van Gogh Museum in Amsterdam. I stood in front of the Sunflowers, and his self portraits, for a long time…and was profoundly affected.
Over 40+ years I've pursued seeing his work in person around the world: Starry Night at the Museum of Modern Art in NYC, the huge Van Gogh gallery at d'Orsay in Paris, the Belvedere in Vienna, Sunflowers at the National Gallery in London, portraits and landscapes at the Met in NYC, and the delightful shock of numerous Van Gogh paintings at the Hermitage in St Petersburg. The quiet pleasure of stumbling across his drawings unexpectedly in other museums…and the Dr Who episode with the Church at Auvers.
Several years ago I traveled to Arles where Vincent had a very prolific period. I visited the mental hospital where he stayed, the Night Café, the Drawbridge, and other landmarks that he painted. The collage above is my photo of the Night Café, with the Van Gogh fabrics from Kaufman, plus Sunflower and Starry Sky prints we have in stock now.
The study of Art History has been a very important part of my life, and I've tried to share this with my kids. I took Sam to see a very famous self-portrait by Van Gogh, and he stood quietly in front of the painting for a very long time….and was very moved by the experience. It is hard to explain how his paintings affect us, but if you've experienced on of his masterpieces…you know.
We have stocked the new Van Gogh collection, including the full range of paintstroke blenders, for those of you who are fellow Vincent fans. You know who you are. Go to the Van Gogh Gallery for more inspiration about this creative genius.
sharing your Passion for Fabric…
Luana
********
Travel Calendar:
May 18 – 24 – Saint Louis & NYC
June 13-14 – Quilt Canada Festival in Toronto
June 19-21 – Cleveland – Fresh Quilting
July 30 – Intl Quilt Trends lecture at San Jose Museum of Quilts & Textiles
Aug 12 – Festival of Quilts, Birmingham UK
Sept 16 – Quilters Take Manhattan
Dec 29 2017 – Jan 5 2018 – Tanzania Africa
Wildlife Migration Tour – Limited Spaces
Feb 22-25, 2018 – QuiltCon – Pasadena, California
Share Post: