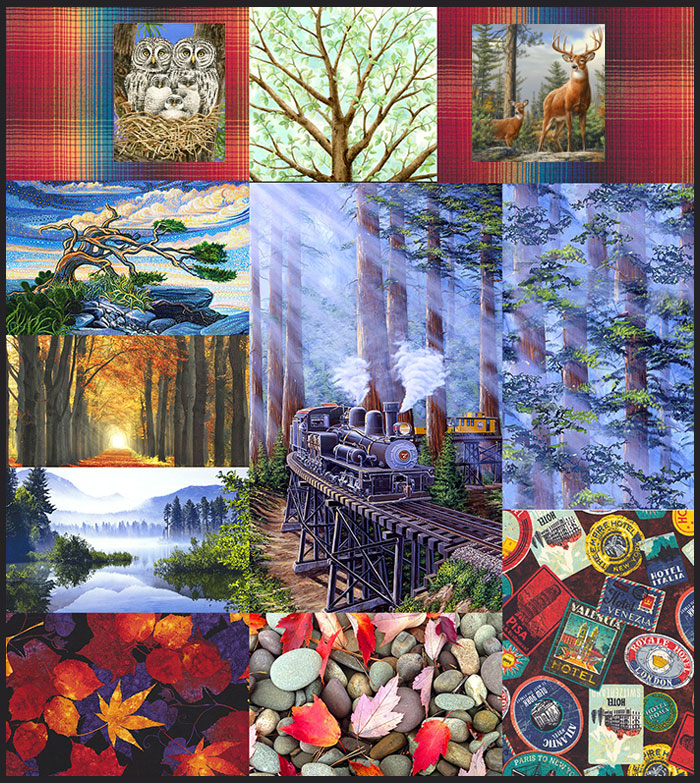 One of the things we do as quilters, is to document events in our lives, or the lives of our loved ones. Weddings, graduations, babies, memorial quilts…and Travel Scrapbook quilts!
A Travel Quilt can be based on a special trip that is part of our past (we document it like a scrapbook) or it can be a Fantasy Travel Quilt that helps us pass the time while we anticipate an upcoming epic trip.
We know many of you like to make these types of quilts, because we see you buying fabrics that represent Beach Vacations, Route 66 Road Trips, National Park tours, and trips to faraway places like Europe and Australia.
Sometimes we travel to photograph wildlife in Africa or in the Arctic, sometimes we travel to quilt shows on the other side of the world!
When we come home, we want a memory of where we've been, and what we've experienced. We love seeing the fabrics you pick out to make these special Travel Quilts!
Over the weekend Sophie, Mason and I attended an Engineers Without Borders event, for the CU student chapter traveling to Nepal for earthquake relief. Their next trip is May 15, and they are enthusiastic about hand-carrying another batch of your donated quilts, to the mountaintop villagers who lost everything in the earthquake 2 years ago.
Please drop off or ship your comfort quilts to eQuilter, to arrive by May 10, to get in on the next trip. As you can see, the last batch was received with deep gratitude.
sharing your Passion for Fabric…
Luana
********
2017 Travel Calendar:
May 18 – 24 – Saint Louis & NYC
June 20 – Cleveland OH – Fresh Quilting
July 30 – Intl Quilt Trends lecture – California TBA
Aug 12 – Festival of Quilts, Birmingham UK
Dec 29 2017 – Jan 5 2018 – Tanzania Great Migration – New Years in Africa – Taking Reservations NOW!
Share Post: