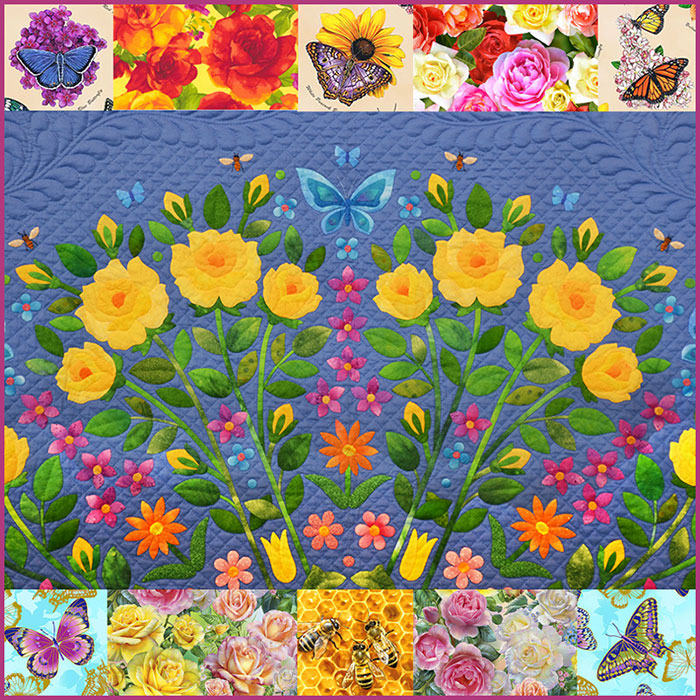 The row of pink crab apples are blooming in front of eQuilter this week…and tonight they are covered with snow!
That doesn't stop us from dreaming of lush flower gardens, buzzing with honeybees, and fluttering with delicate butterflies.
We've seen an uptick in the popularity of fabrics with bees and butterflies, especially honeybees. As bee colonies have been crashing, more quilters are thinking about planting gardens for pollinators. The bees used to come to our gardens to help us, but now it is our turn to research plants that are not pre-soaked with pesticides, to fill our gardens with welcoming blossoms.
I have been seeing more quilts with bees too, and here is a detail from a lovely garden quilt from the Tokyo Quilt Festival, with yellow roses, butterflies and bees. It is by Keiko Miyauchi, and is titled "Yellow Roses". It is hand-appliqued, and the blue background is hand-quilted.
I have added some of our rose, butterfly and bee fabrics in a collage at the top and bottom. There is something so comforting about floral fabrics, particularly rose prints, perhaps because we learned about quilting and sewing from our grandmothers who also tended summer rose gardens. Anyway, that's my family story about sewing and flowers….they always seemed to go together.
If you live in the Boulder area and would like to enjoy our abundant pink crab-apple trees, you can place an order for "Retail Pickup" and then come pick it up in a couple days. By then the snow will be melted and you can have a picnic on our front lawn under the fluttering pink petals. It is going to be 68 degrees on Friday!
sharing your Passion for Fabric…
Luana
********
2017 Travel Calendar:
May 18 – 24 – Saint Louis & NYC
Dec 29 2017 – Jan 5 2018 – Tanzania Great Migration – New Years in Africa – Taking Reservations NOW!
Share Post: