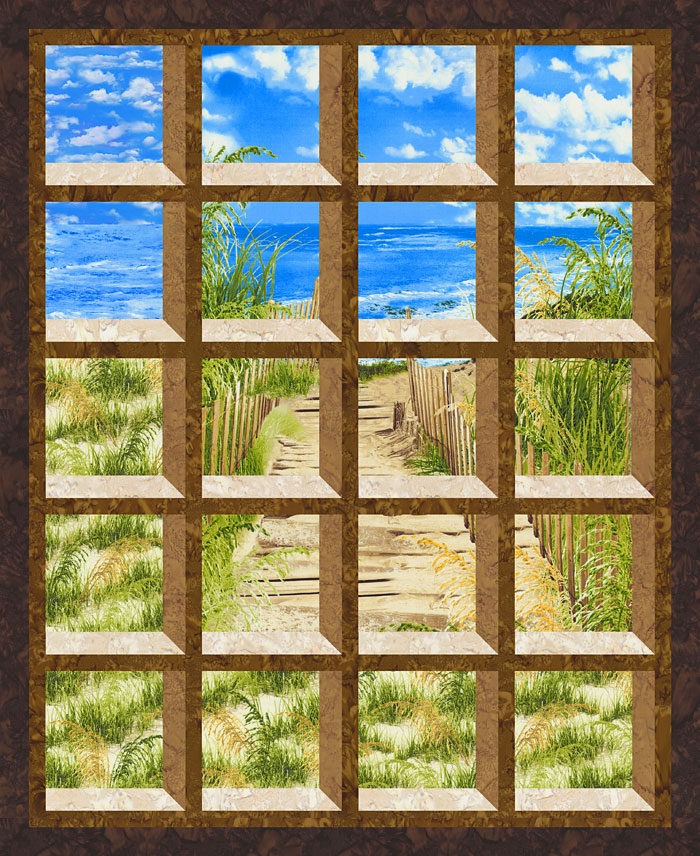 That walk along the beach is just outside the window, with this week's Free Quilt Pattern!
An inviting path leads through coastal grasses, down to the breaking waves that reflect a blue sky and puffy white clouds.
The Windowpane Blocks give a three-dimensional feeling, with this very clever use of the main scenic panel, and 4 shades of Hoffman Hand-Dyes. This 42″ x 52″ quilt makes a fantastic wallhanging, bringing a relaxing outside view to the inside of your home…or perhaps a lap quilt in your snug beach cottage.
Listen – you can almost hear the waves breaking on the shore – and the wind whispering through the grass along the dunes.
… from the 'Beach Haven' collection by Timeless Treasures.
Order the pattern as configured, or customize it to your liking with any of our thousands of fabrics. Just place your desired fabrics in your Wish List, and these fabrics will appear in the Fabric Selector below the pattern.
EQ7 is the leading quilt design software, which is available here at eQuilter.
Click Here for a Video Tutorial of the Free Pattern Designer.
Download Instructions for the pattern at the bottom of the pattern designer page.
Share Post: