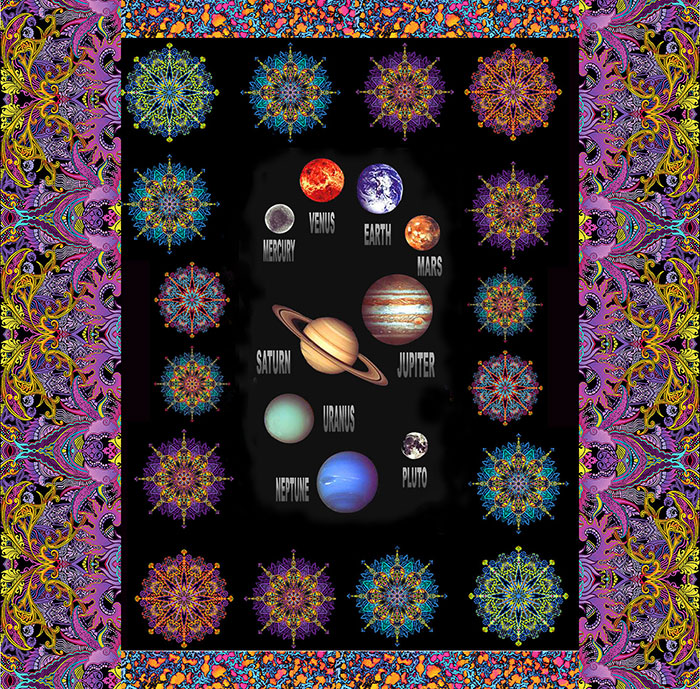 One of our most popular fabric designers is Paula Nadelstern, whose kaleidoscope-inspired mandalas are prized by textile collectors around the world. Over the years I think we have carried 14 different collections designed by Paula, and we've sold thousands and thousands of yards of her entire collections. We stock her old collections as long as possible, because we know they will just sell and sell to her old and new fans.
After I left the New York garment industry and moved back to Colorado, I was looking for a new art form to play with fabric and color. I stumbled across a quilt magazine at the grocery store, and I just knew this was what I'd been looking for. (1990) I found my way to our state guild, and the very first time I went to a meeting of CQC, the guest speaker was Paula! I had recently moved from New York City, so as Paul talked about living in the City, and making quilts on the kitchen table in her NYC apartment, I felt a kinship with her.
Over the years Paula and I have become friends, and we even met in Canada a couple years ago, when she was teaching a class in Winnipeg, and I was leading a group on a Polar Bear tour. One of our most popular videos has been my interview with Paula at her American Folk Art Museum exhibit. (Part I and Part II)
Paula's kaleidoscope quilts and fabric designs remind me of the swirling graphics of Doctor Who and other Sci-Fi/Space films, like giant quilted nebulae floating in a vast textile universe.
Indeed, Paula has created her own quilted universe, where we can go and play with her spinning mandalas…so much better than coloring books!
The collage above combines a Solar System Panel by Heidi Pridemore, with Paula Nadelstern's "Kismet" panels and coordinates.
I am leaving Thursday to travel to Quilt Market in Saint Louis, where there is an 80% chance of thunderstorms and rain all 3 days. Watch for my Quilt Market review in Saturday's newsletter!
sharing your Passion for Fabric…
Luana and Paul
Enjoy artist interviews, tutorials, and quilt festival tours, on our eQuilter Video Page.
********
Travel Calendar:
May 18 – 24 – Saint Louis (Quilt Market) & NYC
June 12-15 – Quilt Canada Festival in Toronto
June 19-21 – Cleveland – Fresh Quilting
July 14-16 – Sacred Threads & Not Fade Away
July 30 – Intl Quilt Trends lecture at San Jose Museum of Quilts & Textiles
Aug 12 – Festival of Quilts, Birmingham UK
Sept 16 – Quilters Take Manhattan
Oct 1-11 – Intl Quilt Trends lecture at New Zealand Quilt Festival – Christchurch
Dec 29 2017 – Jan 5 2018 – Tanzania Africa Wildlife Migration Tour – Limited Spaces
Feb 22-25, 2018 – QuiltCon – Pasadena, California
Share Post: