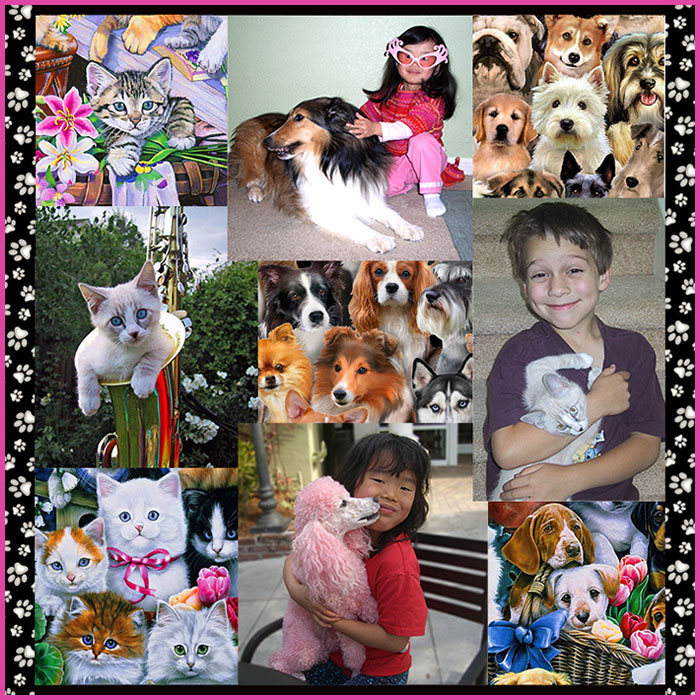 We love animals, and I bet you can see that expressed in our website and the fabrics we carry. We love wild animals and domestic animals, but especially our Cats and Dogs. Personally, our family has 2 rescue kitties and 2 golden retrievers, and our kids adore our pets too.
I know many of you have the same love for your furry buddies…they hang out on your sewing table, they give puppy-dog eyes at the dinner table, they lie quietly in our laps and they race around like maniacs. And then we love them even more!
Many quilt exhibits include in the entry rules "No animal hair" because so many of us have our pets in the studio. What would we do without our Studio Cats who love to "help" by curling up on the best quilt? What would we do without our dogs, snuffling and slobbering in our scrap pile, and reminding us to get up from the sewing machine every once in awhile… to stretch and take them outside?
When you put little kids together with cute pets, especially kittens and puppies, the result is smiles all around. So I thought I'd share some of my favorite photos of Sam and Sophie when they were little, with a couple beloved pets who are now gone. The pink poodle was not ours … we met this doggie on a trip to Florida. Now ladies are dying their hair pink, instead of their poodles…ha!
If you are donating a quilt for Nepal earthquake victims, they must arrive by May 10, because the CU chapter of Engineers Without Borders is leaving May 15.
Don't forget – last minute Mothers Day Gift Certificates!
sharing your Passion for Fabric…
Luana
********
Travel Calendar:
May 6-7 – San Antonio, Texas
May 18 – 24 – Saint Louis (Quilt Market) & NYC
June 13-14 – Quilt Canada Festival in Toronto
June 19-21 – Cleveland – Fresh Quilting
July 14-16 – Sacred Threads & Not Fade Away
July 30 – Intl Quilt Trends lecture at San Jose Museum of Quilts & Textiles
Aug 12 – Festival of Quilts, Birmingham UK
Sept 16 – Quilters Take Manhattan
Oct 1-11 New Zealand Quilt Festival – Wellington & Christchurch
Dec 29 2017 – Jan 5 2018 – Tanzania Africa Wildlife Migration Tour – Limited Spaces
Feb 22-25, 2018 – QuiltCon – Pasadena, California
Share Post: