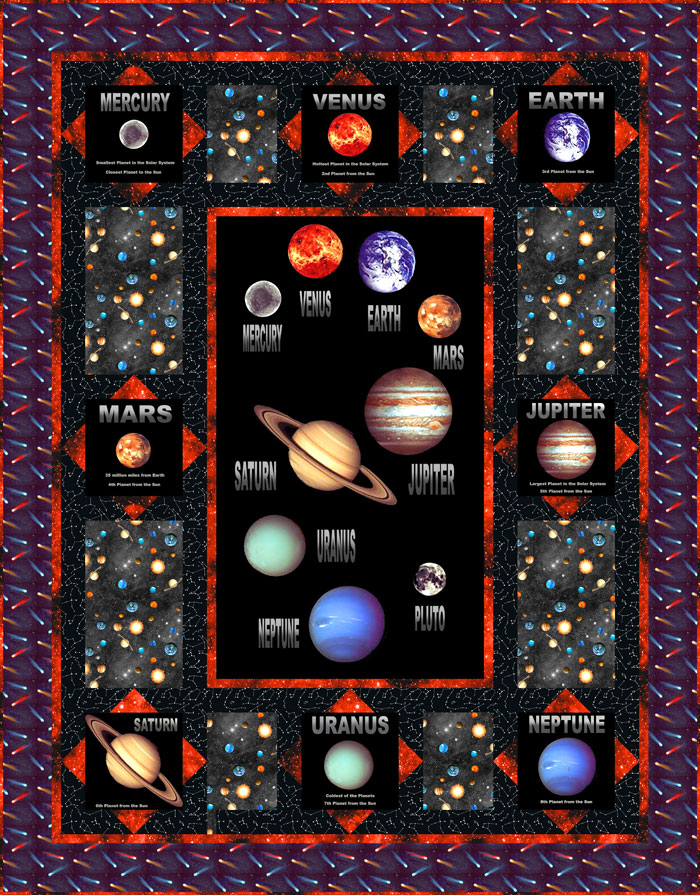 Perhaps today you've been dreaming of Star Wars and interplanetary travel.
It is May the 4th, after all.
This week's exclusive Free Quilt Pattern is for the Space Geek and Astronomy Nerd in the family, celebrating the beauty and the science of our Solar System.
Make this fantastic 57″ x 73″ quilt by starting with the central panel, then cut up a 2nd panel featuring Planet blocks. Piece together with coordinates depicting comets, constellations and nebula, for your dramatic Space-themed quilt.
Intense jeweltones on a black background, with a Red Nebula for sashing, make this eye-popping project perfect for a twin bed or a wallhanging.
… from the 'Cosmic Space' collection by Heidi Pridemore for Blank Textiles.
(May the 4th is a day celebrated by Star Wars fans, as in "May the Fourth be with you.")
Order the pattern as configured, or customize it to your liking with any of our thousands of fabrics. Just place your desired fabrics in your Wish List, and these fabrics will appear in the Fabric Selector below the pattern.
EQ7 is the leading quilt design software, which is available here at eQuilter.
Click Here for a Video Tutorial of the Free Pattern Designer.
Download Instructions for the pattern at the bottom of the pattern designer page.
Share Post: