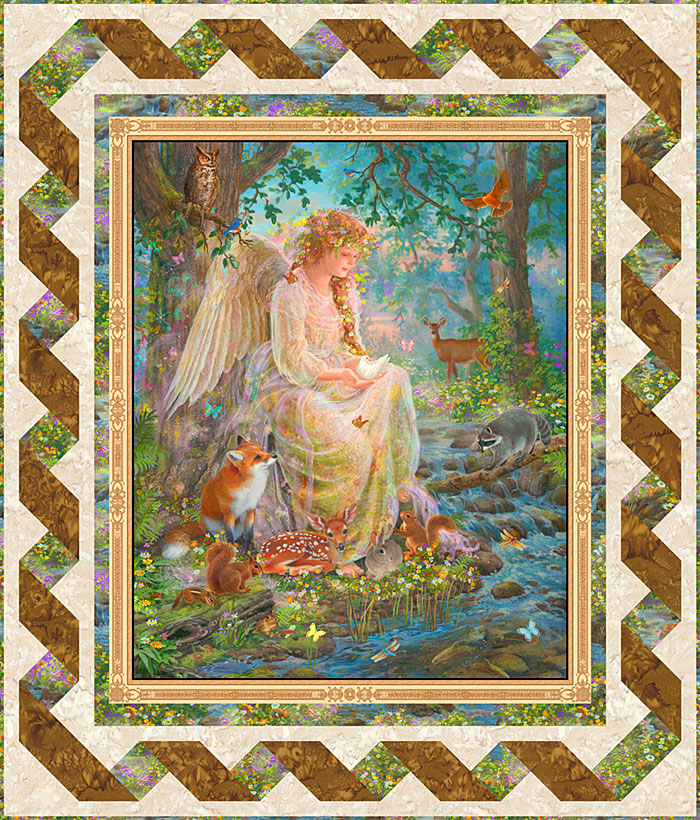 Enter the enchanted forest of this spectacular Nature's Angel in this week's Free exclusive Quilt Pattern. Foxes, fawns, squirrels, deer, raccoons and more forest woodland creatures gather, drawn to her gentle, blessed spirit.
Start with a lovely central panel, beautifully detailed in this digital printed scene. Then add multicolor ribbons of nature with neutral hand dye twists for the pieced border.
This 47″ x 55″ quilt could be a nap quilt, a lap quilt, or a magical wallhanging in a special room. The glowing colors evoke a mystical aura; you can almost hear the woodland whispers of the cherished forest.
…from the 'Artworks' collection by Liz Dillon for Quilting Treasures.
Order the pattern as configured, or customize it to your liking with any of our thousands of fabrics. Just place your desired fabrics in your Wish List, and these fabrics will appear in the Fabric Selector below the pattern.
EQ7 is the leading quilt design software, which is available here at eQuilter.
Click Here for a Video Tutorial of the Free Pattern Designer.
Download Instructions for the pattern at the bottom of the pattern designer page.
Luana
Share Post: