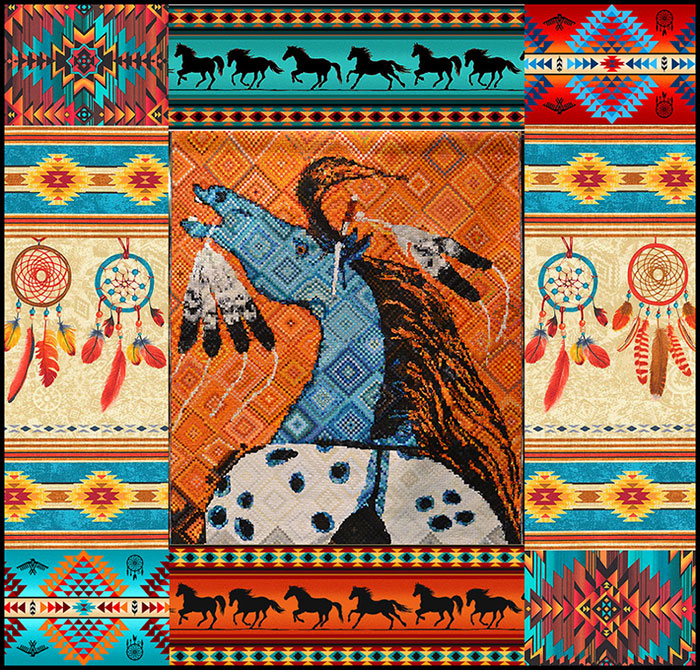 This week I want to feature another one of my favorite quilts from the quilt festival in Canada last month. In the center of this collage is a photo of "Blue Horse Medicine" by Vanecea Greene who is from Calgary.
This was a very large quilt made of hundreds (thousands?) of tiny postage stamp-sized squares, creating the impression of a giant mosaic. It was absolutely stunning … a real show-stopper in the exhibit.
Vanecea created this as a tribute to the First Nation (Native American) artist Dale Auger, who was born a Sakaw Cree from the Bigstone Cree Nation in northern Alberta, Canada. It is an interpretation of his painting "Blue Horse Medicine" and Vanecea was careful to note on her artist statement that she has letters giving permission to use his image of his painting.
This is very important to note that any time a quilter uses another artist's or photographer's work as a source image, credit must be given and permission must be obtained.
You can see photos of this quilt, and other quilts from the quilt festival in Toronto, in the Canada photo album on my photo pages.
If you live in the Bay Area (California) I do hope you can come to my power point lecture "International Quilt Trends" at the San Jose Museum of Quilts & Textiles this Sunday at 2 pm. Right now I am busy adding photos of Sacred Threads quilts to the 200+ plus images!
Tickets are available online now. I will stay for the opening reception of Quilt Nihon, following the lecture…so please stay for the party! (We are sponsoring this exhibit of Japanese quilts.)
I also hope to see many of our eQuilter friends at the Festival of Quilts in Birmingham… I'll be hosting a bus to the Royal Shakespeare Theatre in Stratford on Saturday August 12.
sharing your Passion for Fabric…
Luana
* The fabrics framing the quilt in the collage above, are all available in our Southwest category.
********
Travel Calendar:
July 28 – Aug 1 – Intl Quilt Trends lecture (7/30) at San Jose Museum of Quilts & Textiles
Aug 9-14 – Festival of Quilts, Birmingham UK
Sept 16 – Quilters Take Manhattan
Oct 1-11 – Intl Quilt Trends lecture at New Zealand Quilt Symposium – Christchurch
Dec 29 2017 – Jan 5 2018 – Tanzania Africa Wildlife Migration Tour – Limited Spaces
Feb 22-25, 2018 – QuiltCon – Pasadena, California
Nov 14-20, 2018 – POLAR BEAR Tour – Join me in Churchill!
Share Post: