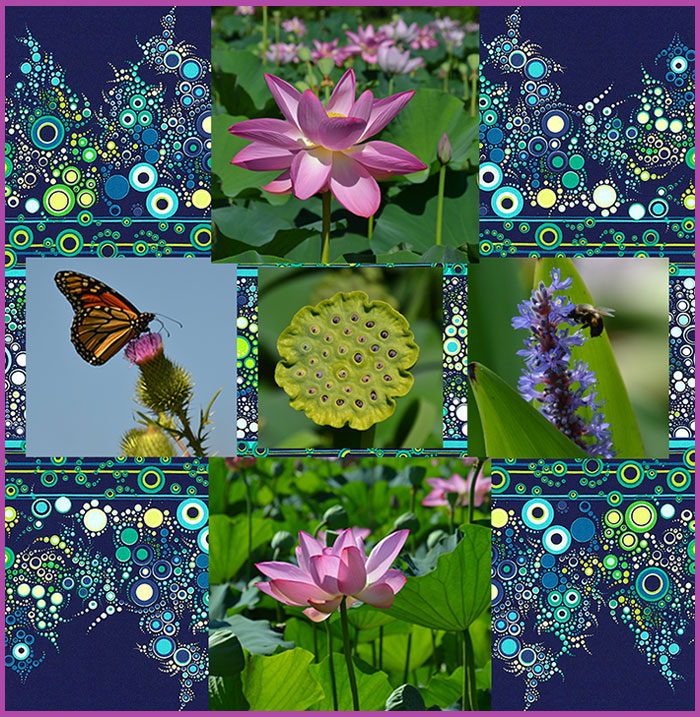 As I prepare to fly to England later today, I thought I'd share some images from my day at the Lotus Blossom Festival in the Kenilworth Aquatic Gardens in Washington DC.
Last month during my trip to Sacred Threads, Donna DeSoto (founder of the National Parks quilt exhibit) turned me onto the annual Lotus bloom at this National Park, which is just 10 minutes east of the Capitol in DC. Thanks Donna!
Everywhere I go, I meet up with part of our big Quilting Tribe…and on this day I was joined by my quilter friend Dara who is also a Buddhist nun and a 2nd grade teacher.
We got there early, just before the crowds hit, and I was in absolute heaven. I took tons of photos and was absolutely enchanted with the huge ponds of gently swaying tall Lotus blooms. Shimmering dragonflies darted in and out of the huge leaves, bees buzzed in the bright yellow centers of the flowers, and butterflies hovered in clouds of orange and black. A long-legged crane waded in the glassy water.
Everywhere we looked, there were happy people snapping photos and appreciating the beautiful expanse of Pink and Green. There was a holiday mood among the crowd, which ranged from families with little kids, to elders with canes and sun hats. We heard so many different languages being spoken, and some people had dressed up in their ethnic garb to have their photos taken with the surreal blooming backdrop.
As the sun climbed to midday, smiling crowds began to stream out of the park. As we all walked together in the shade of the forest, strangers united by beauty, we smiled at each other and sighed.
Back to the Real World, but we all carried a secret pink perfect blossom in our heart…
On Saturday I'll be writing to you from the Festival of Quilts in Birmingham UK.
sharing your Passion for Fabric…
Luana
* The background fabric for the collage above, is Effervescence by Amelia Caruso.
********
Travel Calendar:
Aug 9-14 – Festival of Quilts, Birmingham UK
Sept 12-13 – Carter Center – Atlanta GA
Sept 14 – Quilting Arts TV – Ohio
Sept 16 – Quilters Take Manhattan
Oct 1-11 – Intl Quilt Trends lecture at New Zealand Quilt Symposium – Christchurch
Dec 29 2017 – Jan 5 2018 – Tanzania Africa Wildlife Migration Tour – Limited Spaces
Feb 22-25, 2018 – QuiltCon – Pasadena, California
Nov 14-20, 2018 – POLAR BEAR Tour – Join me in Churchill!
Share Post: