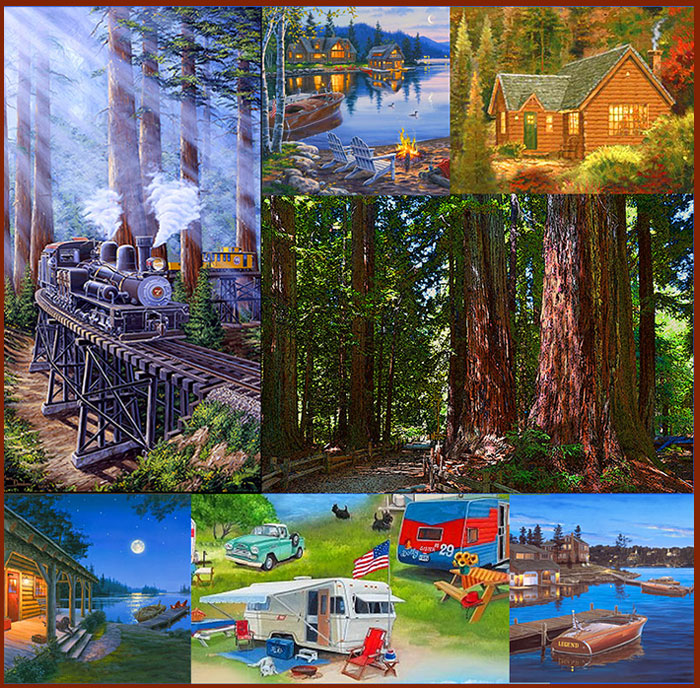 Happy August!
Last night I got home from my quick trip to San Jose in California. Many thanks to all of you who showed up for my lecture – it was great to see you! We all enjoyed the premier of the Quilt Nihon exhibit, and if you live in the area, I urge you to go see this beautiful collection of Japanese quilts at the Museum of Quilts & Textiles.
I took an extra day to visit the Redwoods, and it brought back many memories of my younger childhood in California. Wandering among the groves of silent giants is awe-inspiring and always seems to put the rest of one's life into perspective.
For those of you who might want to take a similar trip, I'll share my travel notes:
Based on suggestions from friends in the area, I drove up Bear Creek Road (a winding forest road in the mountains) to Big Basin Redwood State Park, which apparently has a reputation for Sasquatch (Big Foot) sightings. (!) There were lots of families there for camping and hiking. Tiny rustic cabins nestled like dollhouses at the feet of the monumental groves of Sequoia Sempervirens – the California Coastal Redwoods.
Each of these areas have long and short hikes, including an easy loop that can be done in under an hour for those on a tight schedule. I paid a $10 parking/use fee, which is good for any other state park for the rest of the day.
Next I went to Henry Cowell State Park, where the park ranger saw my parking sticker and waved me through. Yay! As I walked the .8 mile loop, I heard a train whistling, and finally deduced that it might be the train depicted in one of our most popular Nature Panels. As I walked further, I saw the wooden trestle bridges depicted in the panel. So those of you who snapped up this collectible panel knew that already, I assume!
My 3rd Redwood Park for the day was Nisene Marks, but after seeing warning signs about Ticks posted at the entrance, I decided to go have an early dinner on Capitola Beach with a view of Monterey Bay. I soaked up that California vibe, recharging my batteries with a little sunshine and sea air.
Hoping to see many of you at the Festival of Quilts in Birmingham… I'll be hosting a bus to the Royal Shakespeare Theatre in Stratford on Saturday August 12!
sharing your Passion for Fabric…
Luana
* The fabrics framing my Redwood Postcard (image above)
are Train, Forest and Camping themes that we have in stock now.
********
Travel Calendar:
Aug 9-14 – Festival of Quilts, Birmingham UK
Sept 12-13 – Carter Center – Atlanta GA
Sept 14 – Quilting Arts TV – Ohio
Sept 16 – Quilters Take Manhattan
Oct 1-11 – Intl Quilt Trends lecture at New Zealand Quilt Symposium – Christchurch
Dec 29 2017 – Jan 5 2018 – Tanzania Africa Wildlife Migration Tour – Limited Spaces
Feb 22-25, 2018 – QuiltCon – Pasadena, California
Nov 14-20, 2018 – POLAR BEAR Tour – Join me in Churchill!
Share Post: