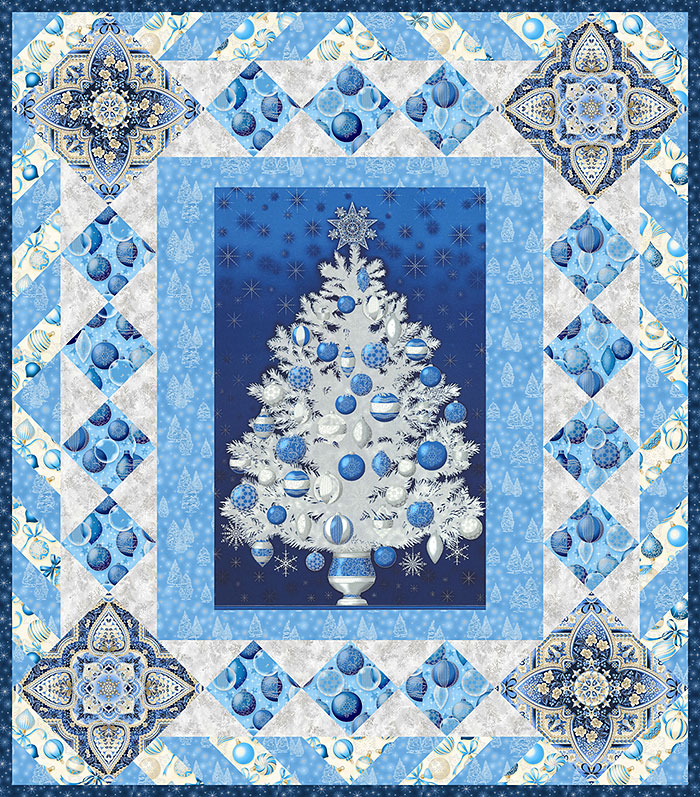 What is it about a sparkling snow-covered Christmas Tree that is so magical? Is it the quiet beauty of a winter morning after a storm, or the clean classic beauty of the Blue and White color combination?
This week's Free Quilt Pattern is a delightful combination of the Winter's Grandeur and Holiday Flourish collections, with icy pine needles, shimmering blue ornaments, and crystalline combination of Sapphire Blues and Silver Metallic.
Start with a large central panel featuring the decorated Christmas tree, then add layers of jewel-like coordinates to make the pieced border with diamond blocks. This 58″ x 66″ quilt will hang in a place of honor during your holiday celebrations, or will make a treasured gift to be cherished over the Winter season.
… from the 'Winter's Grandeur' collection and Peggy Toole's Holiday Flourish group
by Robert Kaufman Fabrics.
Order the pattern as configured, or customize it to your liking with any of our thousands of fabrics. Just place your desired fabrics in your Wish List, and these fabrics will appear in the Fabric Selector below the pattern.
Click Here for a Video Tutorial of the Free Pattern Designer.
Download Instructions for the pattern at the bottom of the pattern designer page.
Share Post: