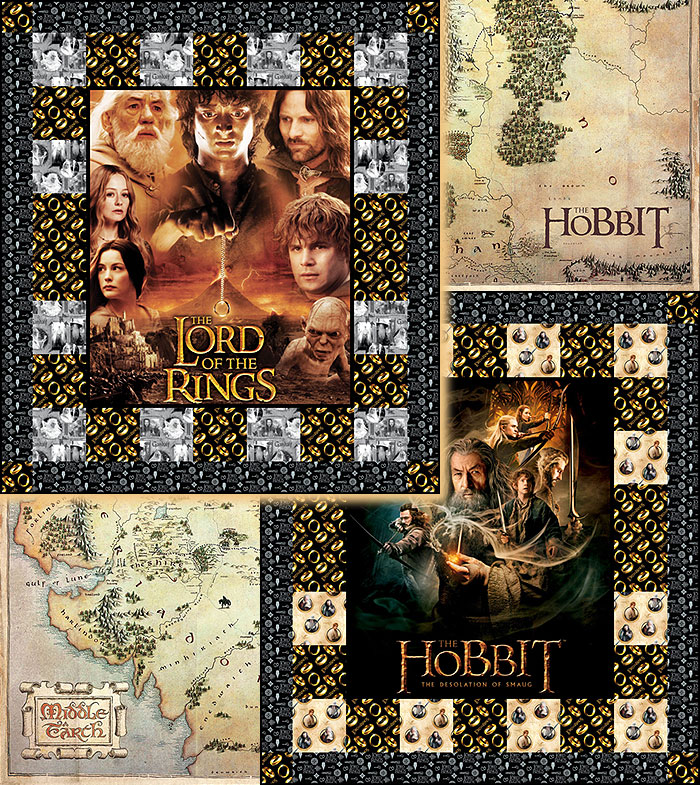 This Lord of the Rings/Hobbit collection will soon be collector items, so if you've been trying to decide what to do with these digital-printed movie poster panels, now is the time to snap them up!
Your Tolkien fan will love either (or both!) of these 57″ x 64″ quilts, and you will love that they are very quick and simple projects for fast gift-giving.
Start with the central panel – incredibly detailed with high quality digital printing. Finish up the simple pieced borders and then if you have time, add special effects like metallic threads.
We can hear Howard Shore's iconic theme music playing when we look at these stunning panels – don't wait until they are discontinued and gone forever!
Available in these two spectacular versions:
The Lord of the Rings Quilt
and
The Hobbit Quilt
… from 'The Hobbit and The Lord of the Rings' collection by Camelot Fabrics and Warner Bros.
Order the pattern as configured, or customize it to your liking with any of our thousands of fabrics. Just place your desired fabrics in your Wish List, and these fabrics will appear in the Fabric Selector below the pattern.
Click Here for a Video Tutorial of the Free Pattern Designer.
Download Instructions for the pattern at the bottom of the pattern designer page.
Share Post: